Just in time for fall and winter holiday get togethers, Chef Andy Hay, who you may recognize from MasterChef Canada, has developed a decadent, yet easy dessert recipe perfect for all upcoming holiday occasions: Coconut Dream Bars.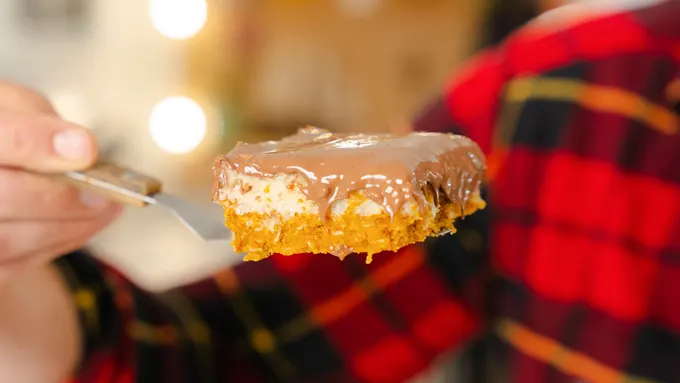 These chewy, three-layer, oat bars are a nostalgic dessert, inspired by the box of cookies and bars Andy's Nan would deliver to him each holiday season growing up.
So whether you need a dessert to serve at your Thanksgiving dinner or you're looking for a thoughtful, homemade hostess gift idea, your readers can enjoy this recipe while serving up the wholesome goodness of 100% whole grain Quaker oats.
Coconut Dream Bars Recipe
These Coconut Dream Bars are an easy-to-make treat that will surely impress loved ones.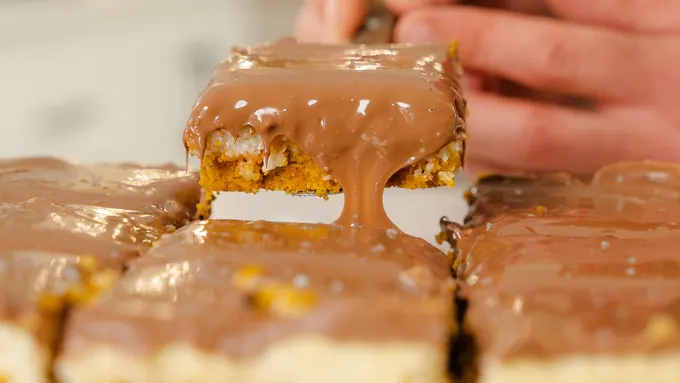 Incorporating Quaker® Quick Oats into the base layer adds to the deliciousness of this decadent dessert.
Prep Time: 10 Minutes
Total Time: 45 Minutes
Servings: 9 Squares
Ingredients
Graham Cracker Layer
1 ½ cups graham cracker crumbs
½ cup Quaker® Quick Oats
¼ cup white sugar
½ + 1 tbsp cup melted butter
Coconut Layer
1 can condensed milk
2 cups shredded sweetened coconut
2 tsp vanilla extract
Pinch of salt
Chocolate Layer
1 ½ cup chocolate chips (I used milk chocolate)
2 tbsp coconut oil or butter
1 tsp flakey salt
Steps:
Preheat the oven to 350 and line a 9X9 inch baking pan with parchment paper.
In a bowl mix together graham cracker crumbs, Quaker® Quick Oats, sugar, and melted butter. Pour mixture into a baking pan and using the bottom of a measuring cup push the mixture down. Be sure to really push into the corners. Next, place into the preheated oven and bake for 10-12 minutes. Once done baking, remove from the oven.
While the graham crackers crust is baking, mix together the shredded coconut, condensed milk, vanilla, and salt. Once the graham cracker crust is out of the oven, pour the coconut mixture over the top and spread out evenly using a spatula. Now place the pan back into the oven and bake for 15 minutes or until the edges start to brown.
While the coconut layer is baking, melt chocolate chips and coconut oil in a double boiler or in the microwave. Once the coconut layer has slightly browned edges, remove from the oven and pour over the melted chocolate. Smooth out evenly, sprinkle on salt, and allow to fully cool on the counter or in the fridge.
Slice and enjoy! These will stay perfectly in the freezer!