Whether you're visiting Calgary for the first time or a local looking to check off your foodie bucket list, here are some of the Best Restaurants in Calgary.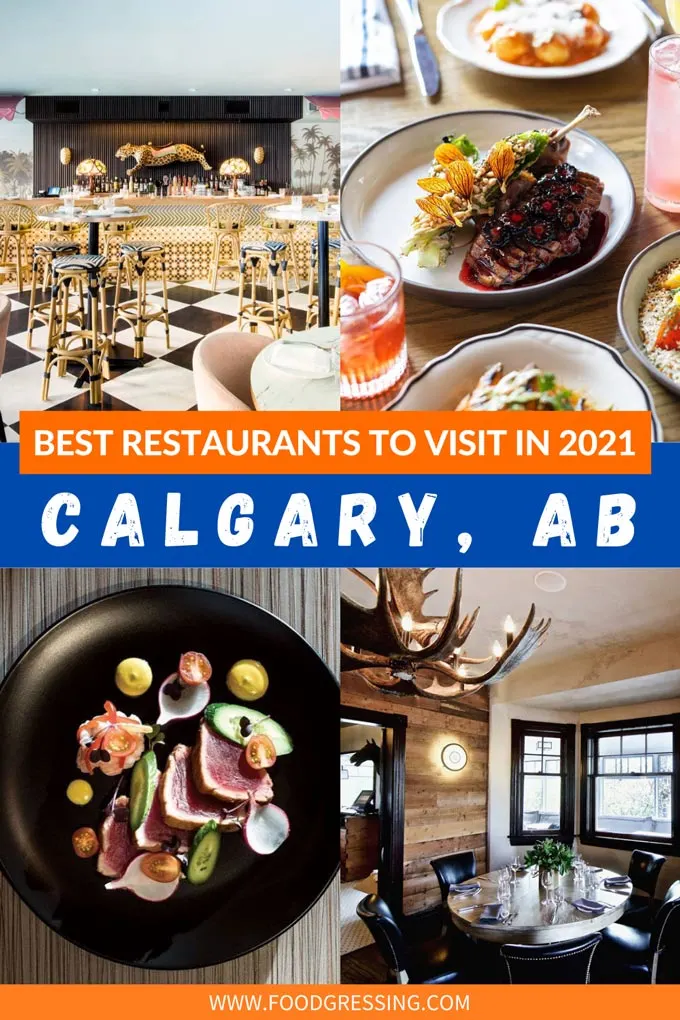 The restaurants are listed in no particular order.
Alloy
At Alloy, Chef-Owners Uri Heilik and Rogelio Herrera will bring a global experience right to your table, that is just as fascinating as it is tasty.
Inspired by Latin American, Mediterranean and Asian flavours, Alloy offers a unique and utterly delicious fine dining menu to Calgary.
Alloy uses ingredients that are fresh, and dishes are created with true passion and care.
Begin your meal with starters like Spicy Ahi Tuna on Crispy Rice Paper; Truffle Gnocchi with Black Truffle Butter Cream; or Beef Tartare on a Corn Tostada.
Some delicious mains that they offer include Alberta Beef Tenderloin with an Atlantic Lobster Risotto; Pork Striploin with Grilled Apple Salad; Beef Short Rib with Tomato Balsamic Reduction; Lamb Chops with Harissa & Maple Glaze and more.
Finish off with Yuzu Cheese Cake with White Chocolate Flakes; Strawberry Millefoglie; or Chocolate Flourless Brownie with Bourbon Caramel Sauce.
With a carefully curated wine list, you'll be able to find the perfect complementary glass for any dish you order.
Beyond just food, with hospitality and above-and-beyond customer service at the forefront of their value proposition, Alloy will always welcome you in the warmest manner possible.
220 42 Ave SE, Calgary, AB
Deane House
One of the best restaurants in Calgary, Dean House, is located on an exquisite, historic property.
It is located in the only building left from the original Fort Calgary.
The house was originally built in 1906 for Captain Richard Burton Deane, the last superintendent of Fort Calgary.
Deane House serves a variety of delicious and contemporary Canadian-style cuisine.
Some highlights of the dinner menu are Pancetta-Wrapped Halibut; Briggs Farm Bison Brisket; and Gruger Farm Oyster Mushroom and Chickpea Ragu.
For brunch, there's the amazing Deane Burger featuring black-pepper bun, caramelized onion, Nostrala cheese, and aioli, tomato as well as the Braised Bison Pierogi with two fried eggs, sour cream, caramelized bacon and onion.
Aside from supporting local farms and producers, the restaurant also Deane House also grows herbs and other produce in their own backyard garden, often canning goods for year-round use.
806 9 Ave SE, Calgary, AB
Rouge
Rouge is an iconic restaurant in Calgary and has been around for over two decades.
The restaurant is co-owned by Olivier Reynaud and Chef Paul Rogalski and the two have created a restaurant that showcases some of the best fine-dining and hospitality that Calgary has to offer.
Rouge is located in the historic Cross House in Inglewood (Calgary's oldest neighbourhood), just a a ten-minute drive from Downtown Calgary.
Start off with the Foraged Chanterelle & Lobster Mushroom risotto or Cherry Foie Gras Bruleé with Cherry Chutney and Lavash Cracker.
Moving onto entrees, there is the Bison Striploin; Beef Tenderloin; Sable Fish and more.
Finish off with a Peach Tart with Orange Segment, Caramelized White Chocolate Mousse and Poached Peach or Caramelized White Chocolate Mille-feuille.
1240 8 Ave SE, Calgary, AB
Calcutta Cricket Club
Calcutta Cricket Club is a contemporary Indian restaurant, and serves up modern takes on classic Indian dishes.
The restaurant walks the line of paying homage to classic Indian plates, while modernizing and putting a fun twist on them as well.
Take for example, the Chips & Curry which is a Classic British chips with fenugreek-cream curry.
On the menu as well are Kati Rolls which are tandoor grilled meats or paneer wrapped in a fresh, flaky paratha.
One unique curry offering is the Shortrib Pepper Fry featuring Alberta beef braised in a curry leaf and tomato sauce with potatoes and crispy fried onion.
Their drink list is similarly lively and often changing, but maintains enough variety to satisfy any craving (not to mention, pair perfectly with anything on the food menu).
With colourful and maximalist decor, the whole restaurant is a feast for your eyes.
Family photos line the hallways, and credit is given to notable family members who have inflluenced the menu.
Check out their Happy Hour which happens Monday – Sunday from 4 pm to 5 pm.
340 17 Ave SW, Calgary, AB
OEB Breakfast Co.
OEB Breakfast Co. is one the best breakfast and brunch restaurants in Calgary.
Founded in Calgary in 2009, OEB is a chef-driven and locally-owned concept with menu items that simply can't be made at home, balanced by lighter fare and vegan options.
Some of their Signature items include Canadian Eh! Benny (Canadian back bacon, dark maple syrup or brown butter hollandaise) and Fresh Toast Trifle (Meyer lemon curd, market berries, Sicilian pistachio, torched French meringue).
They also have a selection of amazing Breakfast poutines like the Soul in a Bowl featuring duck fat fried herb potatoes, Saint Cyrille curds, slow cooked bacon lardons, and brown butter hollandaise. The Soul in a Bowl is one of my favourites from OEB.
OEB takes pride in sourcing high-quality ingredients and working with local producers wherever possible.
The brand has 3 locations in Calgary which makes it easy to get to one of their restaurants for an amazing breakfast or brunch.
Due to their popularity, waits are super common so I recommend that you put your name down on their waitlist via Yelp even before you arrive.
825 1st Ave NE, Calgary, AB
#110 222 5 Ave SW, Calgary, AB
2207 4 St SW, Calgary, AB
Bonterra Trattoria
Bonterra Trattoria is one of the best Italian restaurants in Calgary serving contemporary Italian pasta, risotto, meat entrees in a warm Tuscan-style space with a beautiful terrace.
With a focus on the Tuscan region of Italy, their dishes soar in flavour – no doubt in part thanks to the fresh, local ingredients that Bonterra Trattoria uses.
With classic dishes like Bruschetta and Tagliatelle Bolognese, you can live out your Italian dreams, right here in Calgary.
Finish off with a classic Tiramisu, Lemon Olive Oil Cake, or Flourless Dark Chocolate Torta.
While Bronterra Tratorria has always been an excellent restaurant, ever since Christopher Hyde took over the position of head chef in 2019, the dishes have undoubtedly been taken to the next level.
Hyde has infused a new level of passion and skill into Bronterra's menu, and it shows.
1016 8 St SW, Calgary, AB
Bridgette Bar
Next up on this list of Best Restaurants in Calgary is Bridgette Bar is a chef-driven bar and restaurant that will absolutely delight your taste buds.
Their drink list is a creative and curated catalogue of crushable cocktails, high-octane originals, craft beers, a refined wine list and even sake from Japan.
Some unique cocktail offerings include the Can't Think Straight (Tito's vodka, cointreau, raspberry cardamom amd tonic) and If Don Juan Were a Woman (tequila, grapefruit, IPA, lime, aquafaba, soda and cinnamon).
While they are a bar first and foremost, they serve amazing food.
The menu features wood-fired cuisine that takes "comfort food" to the next level.
On the menu are mouth-watering options like Truffled Mushroom Rigatoni, Maple BBQ Rainbow Trout, Wood Roasted BC Halibut and Wood Grilled Beef Strip Streak.
You'll love their homey mid-century modern space with plenty of exposed brick.
In particular, Bridgette Bar's Happy Hour is quite popular with deals on snacks (like oysters and tuna crudo), salads (like Spiced Beet Salad and Belgian Endive Salad), pizza (like Chicken Sausage and Five Cheese) and drinks.
Be sure to get there early as their Happy Hour ends at 5 pm.
739 10 Ave SW, Calgary, AB
Flores & Pine
Flores & Pine describes itself as an "elevated casual" restaurant, and the type of place you'd go for a perfect steak.
Located in Bearspaw, Flores & Pine sources its ingredients locally to ensure they are always top quality and fresh as can be.
Flores & Pine is the type of place where you can gather with a group of friends for a nice evening out.
For any upcoming special event in your life, Flores & Pine is a great place to hold your celebration at!
With a varied menu that is inspired by classic Italian, American, and Canadian flavours (think: pasta, burgers, and prime striploin), even the pickiest of eaters will be able to find something at Flores & Pine.
What's so refreshing about Flores & PIne is that, despite the quality of their cuisine, they don't bother with anyone pompousness, and encourage guests to come as they are.
No need to stuff yourself into uncomfortable dress wear! For your next night out, check out Flores & Pine for an unforgettable experience.
254028 Bearspaw Rd, Calgary, AB
Cassis Bistro
Cassis Bistro is one of the best French restaurants in Calgary serving Southern France inspired dishes made with seasonal and local ingredients.
Owner Gilles Brassart, who grew up in Aix-En-Provence, wanted to create a restaurant with a warm, accessible approach to South French cuisine.
Leading the kitchen is Executive Chef Dominique Moussu who is originally from Brittany region France and had honed his skills at some of the top, luxury hotels in France as well as at a Michelin restaurant.
Their beef tartare au couteau featurinbg Alberta beef striploin and duck fat potato chips are a must try.
For mains, the Alberta beef cheek á la Bourguignonne and Steak frites featuring Alberta beef striploin are popular.
The restaurant has a cozy and inviting ambience that naturally draws guests in.
If you're dreaming of sitting in the French Riviera with a glass of wine and a mouth-watering meal on the way, Cassis Bistro is your best bet.
2505 17 Ave SW #105, Calgary, AB
Foreign Concept
As Chef Duncan Ly's flagship restaurant, Foreign Concept is a driving force behind Calgary's market for Asian cuisine.
Located in Beltline, Foreign Concept has been serving up pan-Asian dishes since early 2017.
In just a few short years, it has already become a noteworthy success.
Foreign Concept's global menu includes distinctive dishes like squid ink spaghetti and beef bulgogi sliders.
Despite the increasing competition within the Asian food market in Calgary, Chef Ly has always managed to stay one step ahead of the curve by serving up unique, limited-time menus and flavours like pandan, thereby expanding Calgary's food scene as a whole.
1011 1 St SW, Calgary, AB
EIGHT
Hidden in Calgary's East Village, EIGHT is the perfect date night spot for an exclusive dining experience.
This speakeasy-esque restaurant has just eight seats, hence the name.
Here celebrated Chef Darren MacLean cooks and serves a daily tasting menu of meticulously sourced Canadian ingredients paired with the techniques and flavour profiles of Canada's multicultural mosaic.
An example of their exquisitely prepared dishes is the Crystal Dumpling stuffed with lobster claw & knuckle meat. It is later dressed with creamed lobster livers and roe before being laced with Newfoundland razor clam XO sauce.
There's also the crisp fried tentacles, grilled tubes with green curry sauce and fresh cilantro blooms from their farm.
IGHT is a dining experience that encourages full engagement with the chef showcasing previously unseen forms of dining entertainment.
However, this much sought-after meal at EIGHT can be elusive, and you'll have to book a reservation well in advance.
EIGHT seats three nights per week: Thursday, Friday & Sundays. Chef Darren only hosts one seating each evening at 6:30pm and only eight seats. EIGHT books seasonally.
EIGHT takes its exclusivity so seriously that you'll only be given the details of how to get in after you book your reservation.
Alt Hotel Calgary East Village – 631 Confluence Way SE, Calgary, AB
Nupo
One of the best Japanese-inspired restaurants in Calgary is Nupo in Calgary's East Village, which is also another venture by acclaimed chef Darren MacLean.
Nupo serves both traditional sushi and innovative plant-based alternatives.
As a mainly Japanese-style restaurant, Nupo offers everything you'd expect from a great sushi restaurant.
From classic omakase-style sashimi and nigiri to tuna tataki, they do it, and they do it well.
But Nupo takes things to the next level by also offering extraordinary plant-based dishes such as BBQ mushroom bao and eggplant tostada.
Nupo's drink menu is also admirable, and includes a cocktail menu that is purposely curated to feature Japanese teas.
Unlike their cuisine, Nupo's interior design is classic Albertan, with plenty of exposed wood and a rustic-yet-minimalistic feel.
631 Confluence Way SE, Calgary, AB
CRAFT Beer Market
Founded in Calgary in 2011, CRAFT Beer Market is a premium casual restaurant and bar chain with a passion for fresh local comfort food and great craft beer.
The brand has expanded with now 8 locations in 7 Canadian cities.
A visit to CRAFT means connecting you to the community, culture, and specifically craft beer culture.
They offer 100 beers on tap but also serve also up some tasty wines, cocktails, spirits and more.
In Calgary, they have 2 locations.
Be sure to check out their Happy Hour which boasts some great deals on food and drinks.
345 10 Avenue SW, Calgary
100 Anderson Road SE, Calgary
Una Pizza + Wine
One of the best restaurants in Calgary for pizza is Una Pizza + Wine.
Una Pizza + Wine is the perfect place to go when you're in the mood for some cheesy goodness, but prefer a more elegant and grown-up version of the food we all know and love.
Inspired by a variety of countries, including Italy (of course), Spain, and France, Una Pizza + Wine cooks all of its pizza in classic stone pizza ovens.
This technique creates a delicious, authentic flavour that you just won't find in many restaurants.
To reference the latter part of the restaurant's name, the wine list at Una is well-curated and highlights small producers who are just as dedicated to quality as Una.
Unlike most other restaurants at its level, Una Pizza + Wine declines reservations and prefers to welcome its guests on a first-come, first-serve basis.
This way, everyone is treated equally, and patrons are encouraged to stay as long as they like.
With such excellent hospitality, it's unsurprising that many people take Una up on that offer- it's a popular get-together space.
618 17 Ave SW, Calgary, AB