When it comes to best restaurants for Banh Mi in Toronto, Banh Mi Boys on Queen Street and Spadina is definitely one of them.  They are consistently ranked in the top 10 most popular Toronto eateries according to Zomato.  I visited Banh Mi Boys about about a year and half ago (I have a big backlog!) and had a very nice experience eating there.  The concept behind the restaurant is affordable, tasty, Vietnamese-inspired  sandwiches, tacos and baos in a modern, trendy setting.  Here is a little background video created by View The Vibe on what they're about.
Queen Street and Spadina
Banh Mi Boys has three locations in Toronto.  Their Queen Street and Spadina location is small with a few dining tables and counters along the side.  The food is prepared rather quickly and seems to cater towards grab-and-go rather than dine-in due to the limited seating.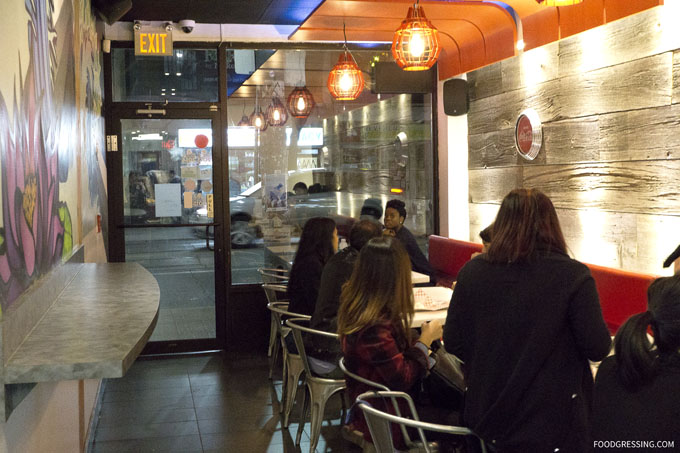 Banh Mi Boys Menu
On the menu are banh mi sandwiches, tacos, steamed baos and a notable sides like kimchi fries.  The 5 spice pork belly banh mi is named as one of Toronto's top 20 sammies.  At the time of my visit, banh mi were priced between $5.50 – $8; tacos were $4; and steamed baos were $3.50 – $4.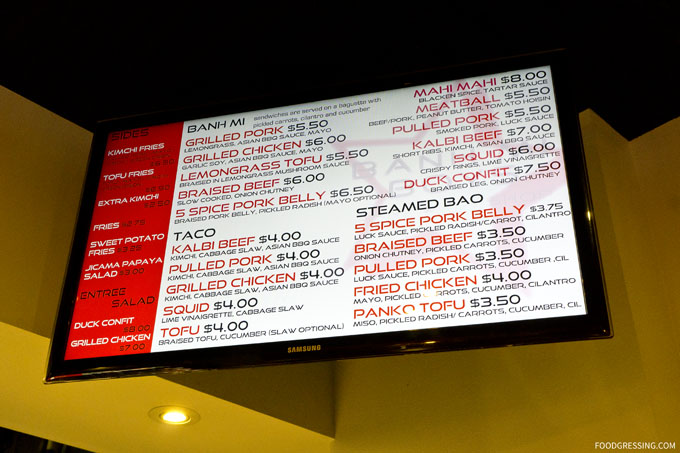 What We Tried
Coming in for an 8 pm snack, my family and I along with another friend in Toronto had the following:
Kalbi beef taco ($4.00)
Kalbi beef banh mi ($7.00)
Grilled pork banh mi ($5.50)
Fried chicken steamed bao ($3.75)
In general, everything was lip-smackingly, soul-satisfyingly good.  Flavour explosion with every bite.  The tacos that Banh Mi Boys offer seem like a more innovative, Asian-fusion type of item.  I enjoyed the smoky and sweet flavours of the Kalbi Beef Taco.  There were some additional spiciness, sweetness  and sourness from the kimchi, cabbage slaw and Asian BBQ sauce.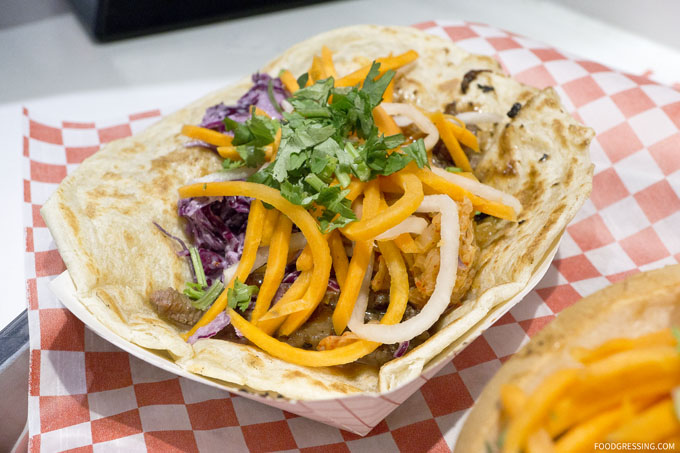 The banhi mi sandwiches came on nicely toasted baguettes which were crunchy on the outside and soft on the inside.  The Kalbi Beef Banh Mi had the same flavours presented in the taco version.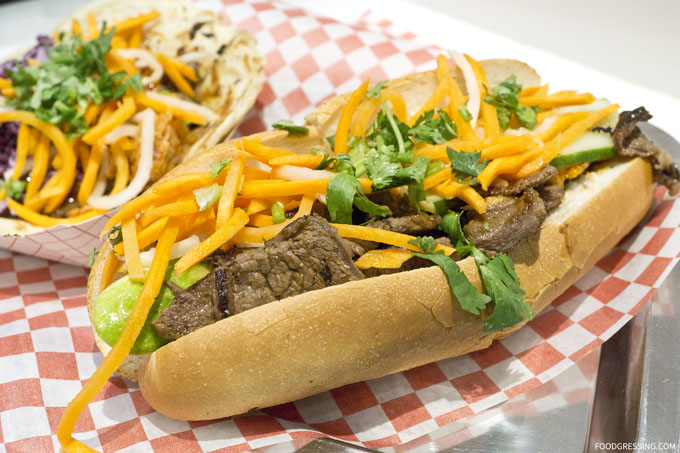 The Grilled Pork Banhi Mi is another tasty but more simple creation.  Still hits all the right notes for being tasty and satisfying.
The Fried Chicken Steamed Bao was heavenly.  You've got a wonderfully fluffy and light bun and then a deliciously cripsy-on-the-outside and juicy-on-the-inside fried chicken.  Bravo.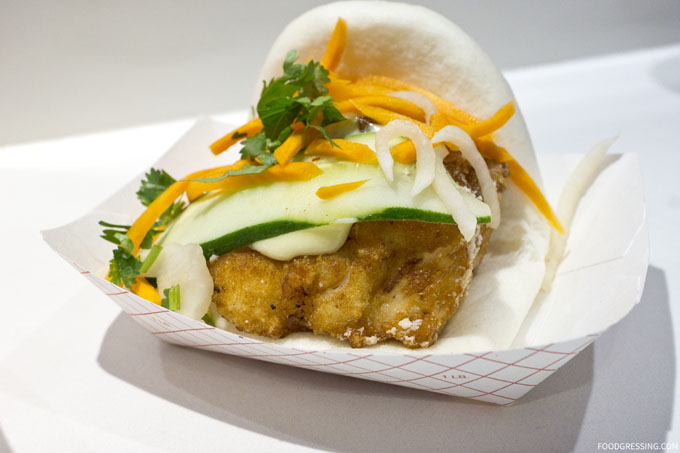 Overall Impression of Banh Mi Boys
I really enjoyed the tasty eats at Banh Mi Boys which had good portions and quality for the price.  I'm heading to Toronto in a few weeks am planning to visit them at their Yonge location.  Rating: 5/5
Website: www.banhmiboys.com