7-Eleven, Inc. is giving customers pumpkin to talk about…the introduction of its 7-Eleven Pumpkin Spice fall coffee drink lineup!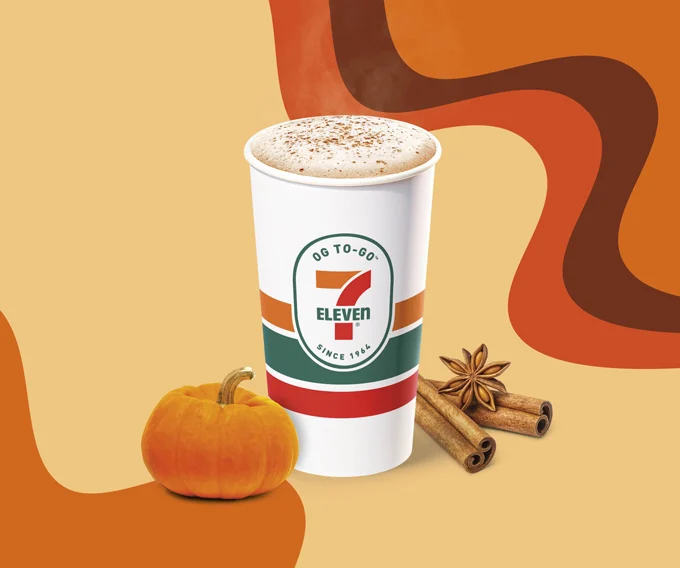 To celebrate the unofficial start of fall, 7-Eleven is bringing back two fan-favorite fall brews available now: the Pumpkin Spice Latte and Pumpkin Spice Coffee.
So channel your flannel—because no one does seasonal treats like the world's largest convenience retailer.
Trade in the outside heat for this popular pumpkin spice treat.
7-Eleven's Pumpkin Spice Latte
7-Eleven's Pumpkin Spice Latte combines a classic espresso flavor with savory autumn spices to create a sweet and creamy pumpkin-flavored beverage.
This crave worthy coffee drink – complete with an irresistible baking spice aroma – is now available at participating 7-Eleven®, Speedway®, and Stripes® stores for a limited time.
Two is better than one and double the coffee means double the fun!
7-Eleven's Pumpkin Spice Coffee
Customers can satisfy their sweet tooth with a second pumpkin-flavored drink – the Pumpkin Spice Coffee, which blends mild Arabica coffee beans with a sweet pumpkin-y taste.
A medium body coffee with mild spice, this smooth drink is perfect for customers who enjoy a clean and crisp finish to their morning (or afternoon) brew.
Pumpkin Spice Coffee is now available at participating 7-Eleven locations for a limited time.
And what would coffee be without a little breakfast to go with it?
For a limited time, members of the 7Rewards® and Speedy Rewards® loyalty programs can grab three sausage, egg and cheese breakfast empanadas and any size coffee for just $3.
Prefer to enjoy your Pumpkin Spice Latte from the comfort of home?
7-Eleven delivery via 7NOW® can bring the spice anywhere, anytime.
And with the 7NOW Gold Pass™ subscription delivery service, customers can get their delivery fee waived on more than 3,000 of their favorite 7-Eleven products for just $5.95 a month.
The 7NOW delivery app can be downloaded from the App Store or Google Play, or by visiting 7Rewards.com.