Starting today, you can give the gift of Tim Hortons through the Tims It Forward feature through Tims Rewards.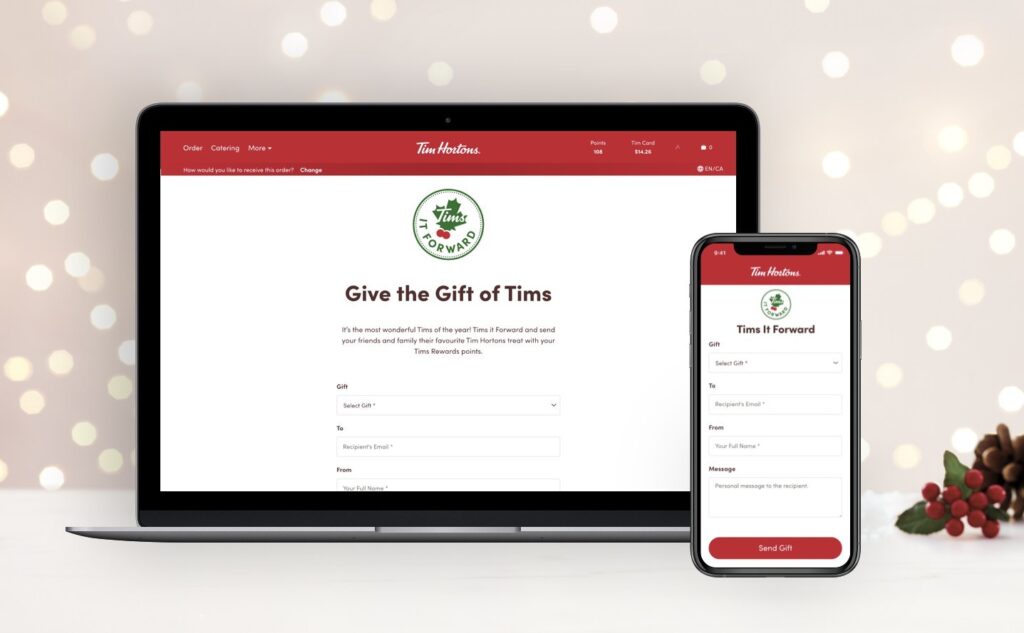 How to send a gift
Registered Tims Rewards members can use points in their account to give select Tim Hortons menu items to family and friends through the new Tims It Forward feature available via the app or website.
All the gift giver needs is the recipient's email address to send the offer in the app or online.
You earn points by visiting your local Tim Hortons and scanning your mobile app or registered physical Tims Rewards card.
List of giftable Tim Hortons items
The list of eligible items to surprise and delight others include: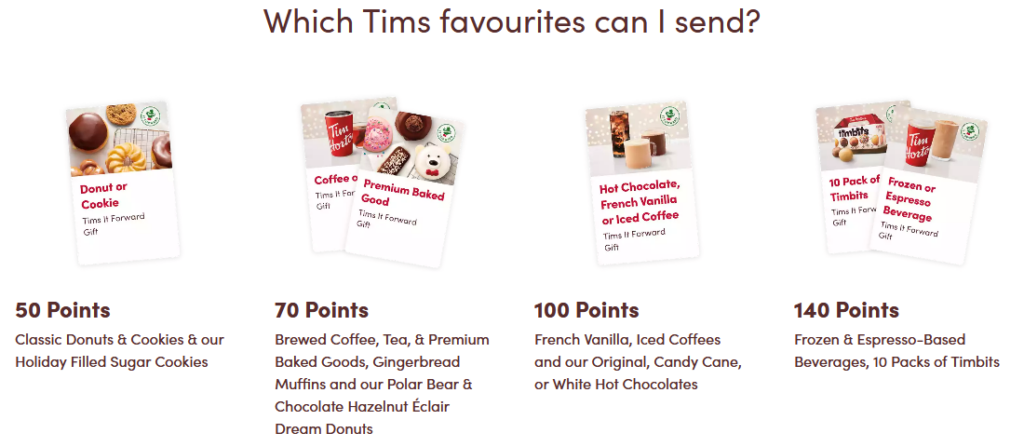 50 Points – Classic Donut & Cookie
70 Points – Brewed Coffee, Tea, Premium Baked Good
100 Points - Hot Chocolate, French Vanilla, Iced Coffee
140 Points – Frozen or Espresso-based Beverage, 10 Pack Timbits
You can also add a personalized message to be sent along with the gift.
One-time launch freebie
To kick off the chain of giving, all new and active members of the Tims Rewards program will receive an offer to earn 50 bonus points, which can be activated and redeemed in the app.
Newly registered members for this campaign are considered to be guests who have signed up between Nov. 27 and Dec. 2, 2020.
Active guests for this campaign are considered to be registered users that have made at least one purchase of $0.50 or more in restaurant and have scanned their Rewards.
How to accept a Tim it Forward gift
When someone sends you the gift of Tims, you will get an email in your inbox containing the gift.
If you are a registered Tims Rewards member, all you must do is click the "accept a gift" in the email and follow the next steps instruction in order to enjoy the gift of Tims.
Alternatively, if the recipient is not a Tims Rewards members and choose not to register, he or she can redeem their gift via a one-time QR code sent to their email.
Gift expiry
The gift must be activated within six months of being sent and once activated, used within two weeks.
Wondering what to order at Tim Hortons? Check out my post on Tim Hortons Holiday 2020 menu items.