Macaron lovers were over-joyed with the opening of Maison du Ladurée on Robson Street today.  This marks the first Ladurée boutique of the world famous French luxury bakery and sweets maker in Canada.  I joined hundreds of other macaron aficionados in line awaiting to indulge in their sweet macarons.  In this post, I will share with you my experience as one of the first customers of this highly anticipated store.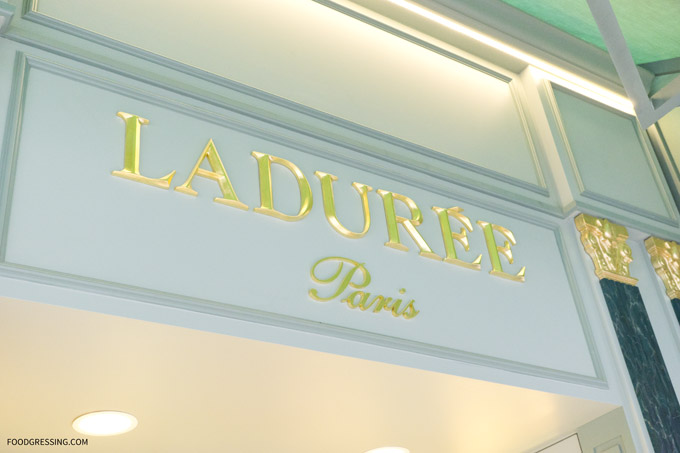 The Wait
Numerous media outlets have covered the long line-ups for Ladurée Vancouver today.  My wait was a whopping…two hours.  If you are planning to lineup, bring a cell phone battery pack, some snacks, and an umbrella (just in case) because you will be there for a while.  When I joined the line, I started out in front of The Gap.
People were let into the store in groups of eight.  I personally was very excited when I got close to the storefront and finally saw the sage-green storefront sign.
A Touch of Paris
When I first got into the store, it was busy but orderly.  I commend the staff for letting the right amount of people into the store as it was not that uncomfortable.  There was no pushing, shoving, or hollering like Black Friday in the US – the customers seemed pretty calm and mostly in awe of finally getting inside the store.
Aside from food, there were other Ladurée products for sale including perfume bottles, tea canisters, and scented candles.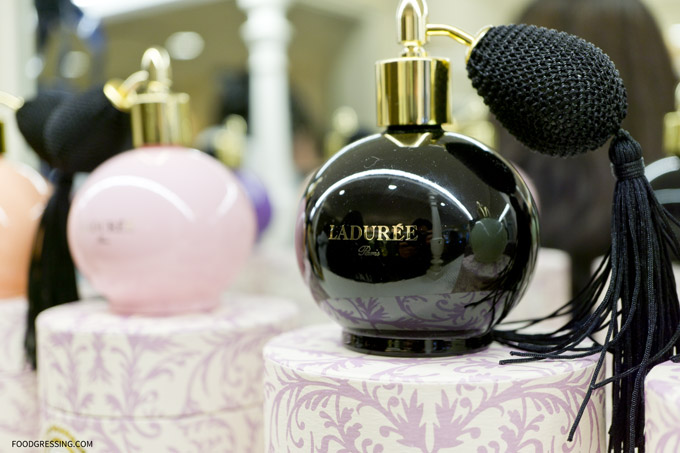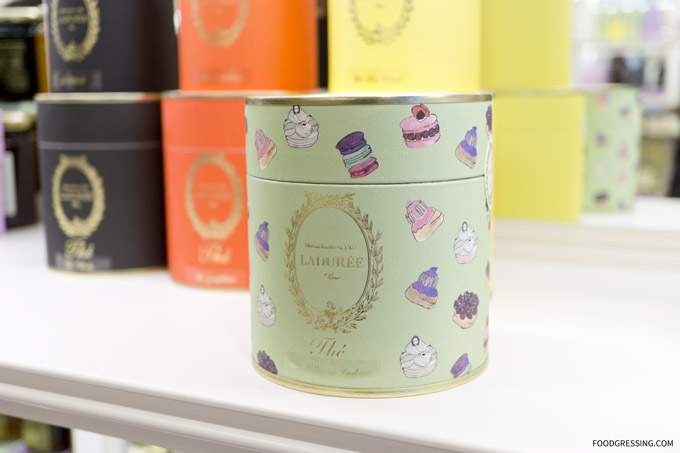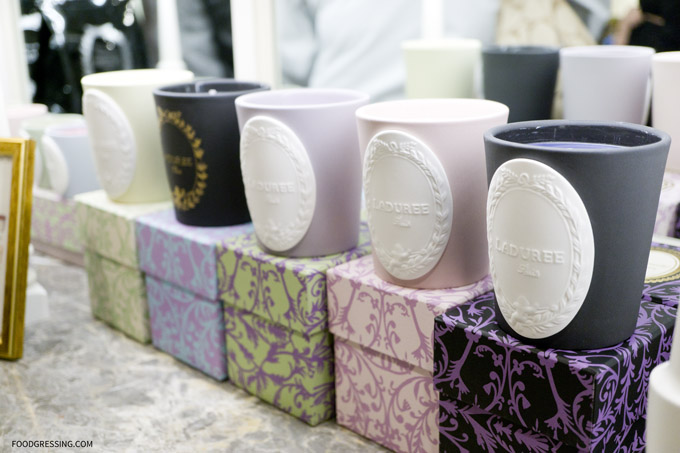 Macarons Are a Must
The front of the Ladurée Vancouver store had their patisserie display case of vibrant-colored macarons, decadent chocolates, and a few baked goods.  Each macaron is $3 and there are 17 macaron flavours including some cherry blossom (fitting for the cherry blossom season right now) and maple-syrup (very Canadian!).  Some just bought a few while some loaded up as if it was the end of the world.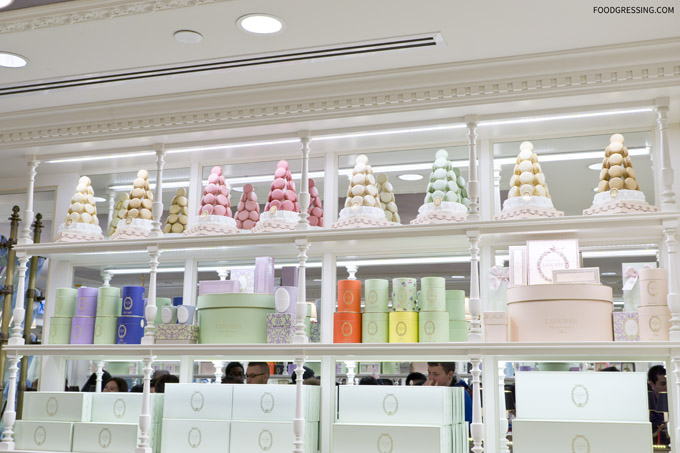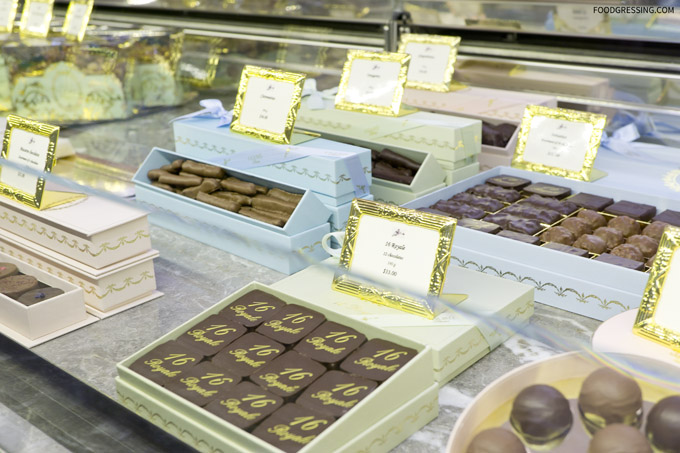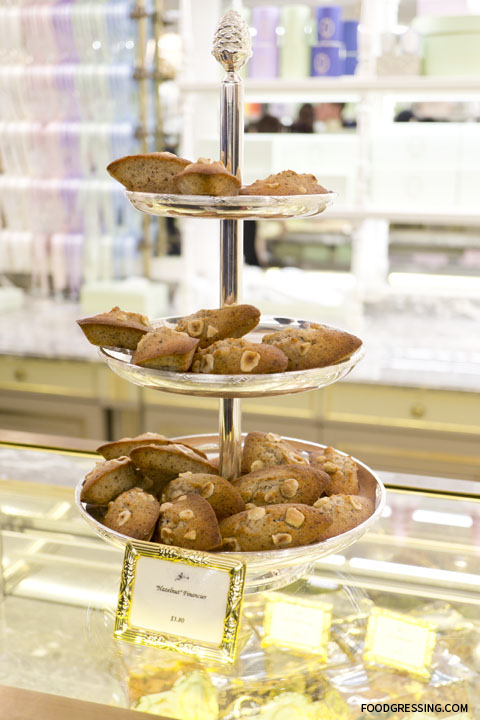 My Tea Salon Experience + Menu Photos
At the back of the store is a 16-seater tea salon that offers a selection of finger sandwiches, Croque-Monsieurs, French toasts, viennoiseries, cakes, ice cream, and full afternoon service.  Photos of the menu can be downloaded here.
There were a few open tables for the tea salon at that time so I decided to try something off their menu.  I waited two hours afterall and my legs were tired at that point.  As I surveyed the scene, I noticed that most of the people at the tables either did not have menus or were waiting to make an order.  There did not seem to be much food at the tables.  Service seemed a bit frazzled, struggling and slow but understandably so.  I give them some lenience since it was the first day.
It took a while for a staff member to even approach me but she was nice when she finally took my order.  I ordered the Coupe Isaphan ($15.00) which is a raspberry sorbet with rose petal ice cream, raspberries, lychees, raspberry sauce, with Chantilly whipped cream.  For the macarons, I had raspberry, salted caramel, cherry blossom, and pistachio.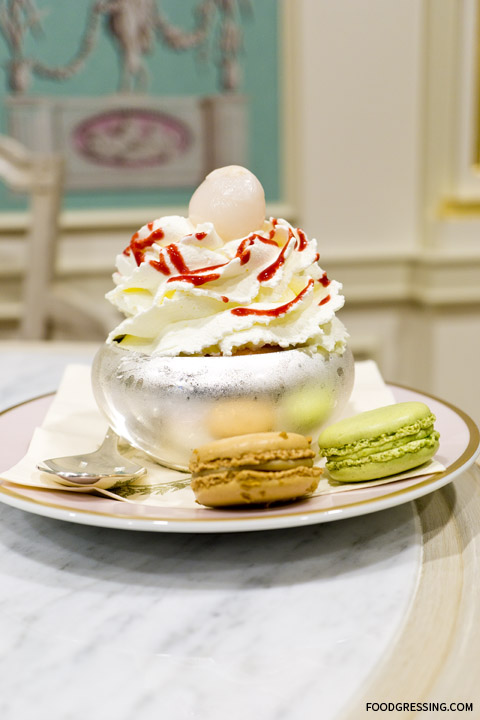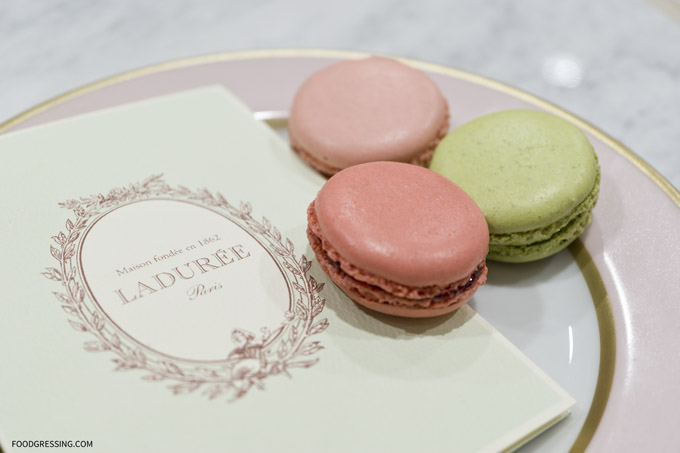 The Coupe Isaphan was overall good and had a lot of strong raspberry flavours.  The part that I loved the most was the lychees which were sweet.  The macarons were so good as expected: crisp outer shell with soft chewy filling.  The flavours tasted like their name suggested.  At $3 a piece, they are a bit of premium considering locally made ones at Bon Macaron Patisserie are 50% less at $1.50 a piece.
Overall Impression of Ladurée Vancouver
Ladurée has arrived in Vancouver with a lot of hype and fanfare.  The items are a bit pricier: my dessert was $15 and macarons are 50% more expensive than local ones.  I'd be interested in trying out more food at their tea salon when service is more smooth sailing.  The line up was long but I appreciated that the staff treated everyone nicely.  Rating: 4/5
Address: 1141 Robson Street
Instagram: @ladureecanada #ladureevancouver