New Year's at Hotel Vancouver Dec 31, 2017
December 31, 2017 @ 8:00 pm

-

January 1, 2018 @ 3:00 pm

PST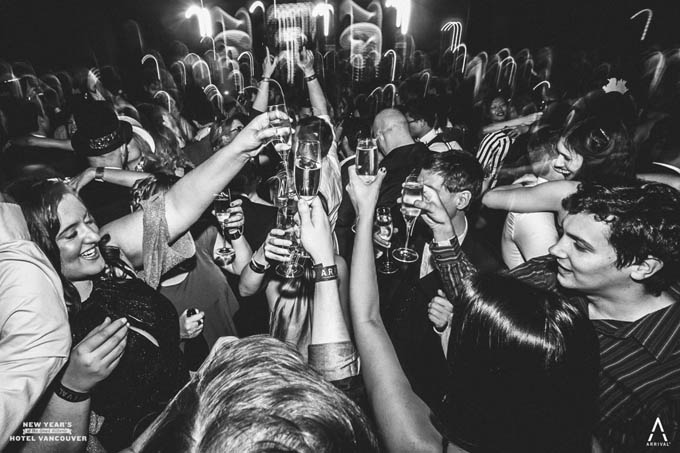 Arrival Agency's legendary New Year's Eve Party is back for a fifth year and boasts its best lineup yet.  One ticket gets you into five parties at the city's wildest and best New Year's event in the historic Hotel Vancouver.  Selling out every year since its inception in 2013, this annual event brings together exceptional talent on the biggest night of the year.  Happening on Sunday, December 31, the party will take over an entire floor of the hotel.  Each of its ballrooms will be turned into pop-up nightclubs that boast unique programming and one ticket gets you into all of these parties. Revellers can expect an extraordinary event that features a fun mix of talent playing and partying in Vancouver's Castle in the City.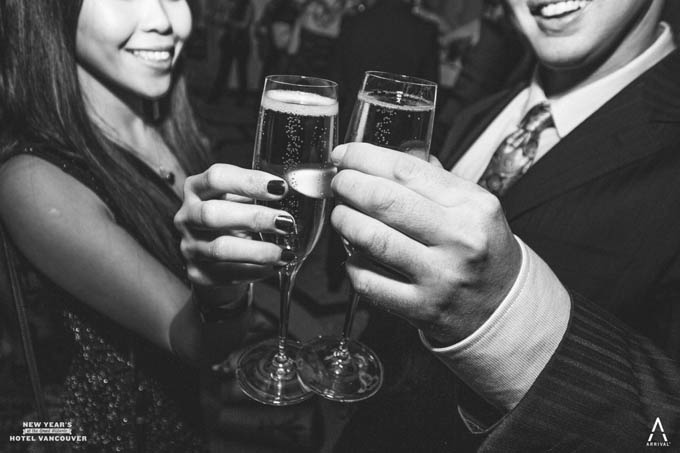 Highlights of this not-to-be missed event include the Smalltown DJs headlining the British Ballroom. The Calgary-based duo are favourites of the festival circuit and have recently released music with tastemaker labels Mad Decent, Fool's Gold, and many more. Joining them in that room, which is sure to be a raucous party, are DJs Wmnsstudies, Waspy, Kenny Mac as well as Zynth & Co, the city's best go-go dance troupe.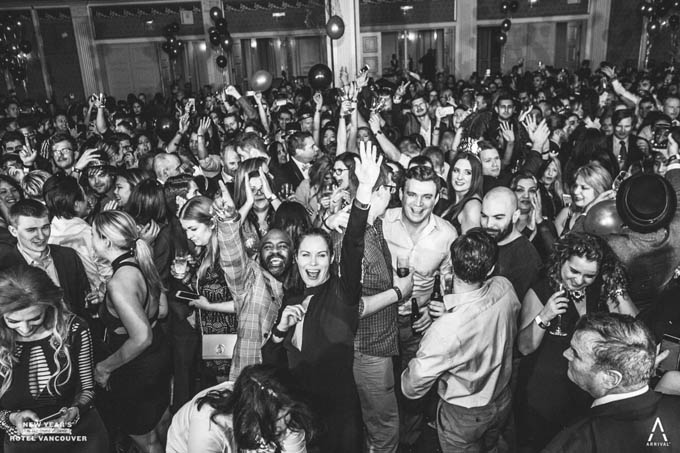 The majestic Pacific Ballroom will be transformed into a shimmering disco ballroom courtesy of the Tainted Lovers, a live band playing dance floor anthems from the 70s and 80s that you know and love. Breaking up their sets throughout the evening will be enchanting dance performances by the Orchid Club burlesque troupe as well as disco tracks courtesy of DJs Niña Mendoza, Phil David, and Mr Pablo.
Local favourites the Switch DJs, consisting of Syd Woz, Roxy Motorola, and Donna C, will turn the Board Room into a sweaty hip hop dance party. An all-night dose of house and techno is sure to get revellers moving in the Waddington Room, which features Seattle's Doza (of LawnChair Generals fame) as well as DJs Ingrid Hakanson, Kelso, Sivz, and Innezz. And the Vancouver Island Room will be the VIP area, complete with a private bar, offerings from the hotel's award-winning kitchen, and laid-back DJ sets from various artists.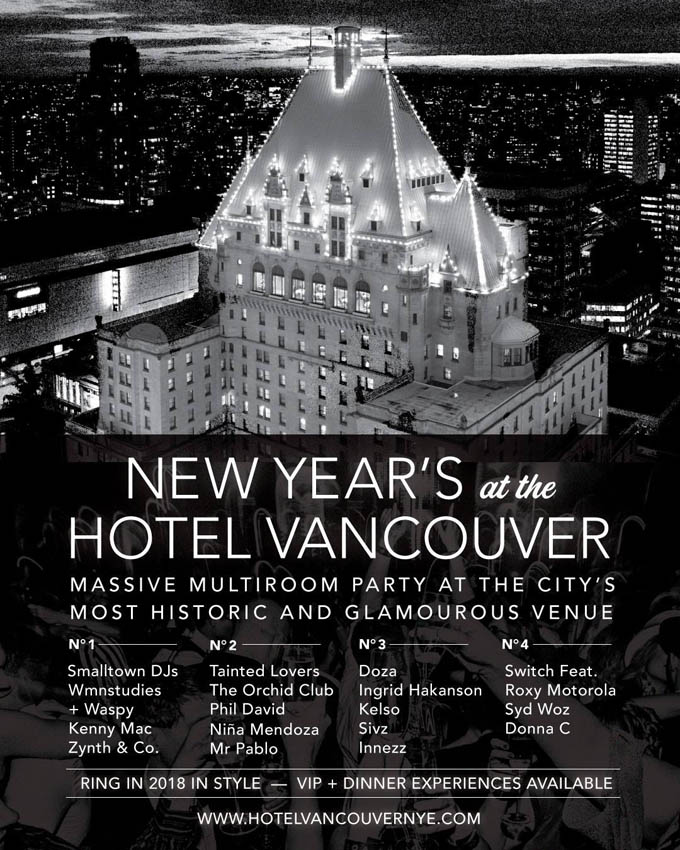 Discounted tickets as well as VIP Packages are on sale now for Vancouver's biggest and best NYE celebration.  This is a boutique event, so quantities are limited to ensure a more intimate experience. Attendees are encouraged to buy there tickets soon before it sells out.
GIVEAWAY
Enter to win two General Admission Tickets (value $200) to New Year's at Hotel Vancouver.  Giveaway ends Dec 22, 2017 23:59 PST.
Ticket Information
Ultra Early Bird Ticket— $45 (SOLD OUT)
Early Bird Ticket — $65 (SOLD OUT)
Early Bird 2 Ticket — $75 (NEARLY SOLD OUT)
General Admission Ticket — $99
Early Bird Champagne Ticket (includes two glasses of bubbly) — $125
Early Bird Golden Ticket (includes four deluxe drinks) — $145
Early Bird VIP Dinner Ticket — $199
Early Bird VIP Dinner Ticket (includes four deluxe drinks) — $249
Tickets are available at www.hotelvancouvernye.com
Dinner Information
VIP Dinner takes place in the Vancouver Island Room.  This buffet-style meal starts at 8:30pm.  From 10:30pm onwards there will be light snacks available until the end of the party.  The VIP Room also has a private bar and entertainment.