Italian Day on Commercial Drive happening June 11, 2017
June 11, 2017 @ 12:00 pm

-

8:00 pm

PDT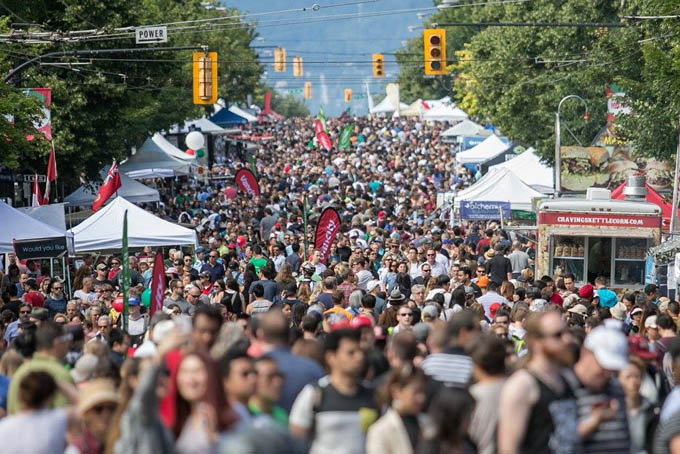 Mark your calendars because Italian Day returns to Commercial Drive for its 8th year to celebrate Italian culture, community and heritage.  It's the biggest celebration of Italian culture west of the Mediterranean!  Commercial Drive will transform into a festive, 14-block celebration zone, filled with over 200 exciting merchants, food vendors, live entertainment and more.  This year's Italian Day theme is Amore, and will attract enthusiastic attendees, no matter what age or culture, with its universal message – love.
Food
Delicious Italian street food including fried Italian donuts, cannoli, pasta, panini, meatballs, gelato, arancini, pizza, panzerotti, coffee, and espresso based drinks will transport you to the streets of Venezia, Roma and Firenze as you make your way down The Drive.  Celebrate 60 years in the Lower Mainland with Bosa Foods by trying Bosa brand imports at their Drive storefront; or visit La Grotta Del Formaggio for specialty cheeses and their award winning panini; take a seat at one of the more than 15 extended merchant patios; or indulge in the selections offered by over 20 food trucks, including returning favourites Via Tevere Woodfire Sandwiches; and don't forget a visit to the Cannoli King or Fratelli's bakery to complete your delicious culinary journey around the country.  Mastro San Daniele Piazza on 3rd Avenue offering free salumi samplings, along with seating area and mini stage.
Entertainment
Live music and theatre, street performers, roaming stilt walkers, classic cars, children's amusement zones and more will entertain attendees all day along The Drive. Highlight performances taking place on the Italian Day stages include special guest performers from Italy – Danilo Ciaccia and his ItalyAMO band, sponsored by Air France.  Put together especially for Italian Day 2017, Danilo and his band will be performing Amore themed covers and original songs at Il Centro Amphitheatre stage at Grandview Park.
Little Italy and Canada 150
In celebration of Canada's 150th birthday, Il Centro has created a special series of events, showcasing the wonders of Italian culture and the important role Italian Canadians have had in shaping our country's history. Named after Giovanni Caboto (better known as George Cabot) who discovered Canada, The Caboto Series is a celebration of the influence that Italy has had in shaping the multi-cultural landscape that Canada is known to embrace.  In addition, Il Centro's museum will host an Italian and Cantonese Opera Exhibition in June, as part of the Italian Heritage month celebrations, and if you're into Jazz, look no further than the Vancouver International Jazz Festival starting on June 24, where Italian Jazz will be prominently featured.
Raffle Tickets
Don't forget to purchase your raffle tickets at one of the three raffle stations (Grandview Park, 2nd Ave and Da Vinci Travel) for your chance to win one of five prizes being given away, with a total value of over $9,000. To coincide with this year's theme, 1st & 2nd prizes are Air France round trips to two cities of 'love': 1st Prize is a trip for two from Vancouver to Rome, and 2nd prize is a trip for two from Vancouver to Paris!  Partial proceeds support Dream Big Productions and Theatre Temp, which fosters youth mentoring via Templeton Secondary School's award winning film and theatre programs.
As the street will be closed to vehicle traffic between Venables St. and the Grandview cut, it is recommended that visitors walk, cycle, transit or Car2Go (there will be some dedicated parking for Car2Go members) to get to event. Bicycle Valet will also be on site.
For more information visit www.italianday.ca.  Follow Facebook @ItalianDay, Twitter @ItalianDay and on Instagram at @italiandayonthedrive, and join the conversation using the hashtag #ItalianDay