I recently discovered Book Outlet - an online retailer of the largest selection of new, unused bargain books.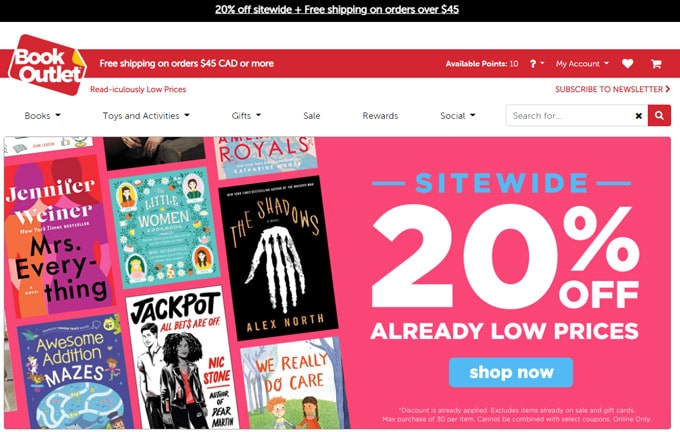 What can of items can you find on Book Outlet?
You can find a wide range of books with categories ranging from biographies; children's books; cooking, food & wine; crafts & hobbies; fiction; heath & fitness; religion & spirituality; tween; and young adult.
Book Outlet also sells kid's toys including Jigsaw puzzles; activity sets; brain teasers; kid's activity books; colouring and gift cards.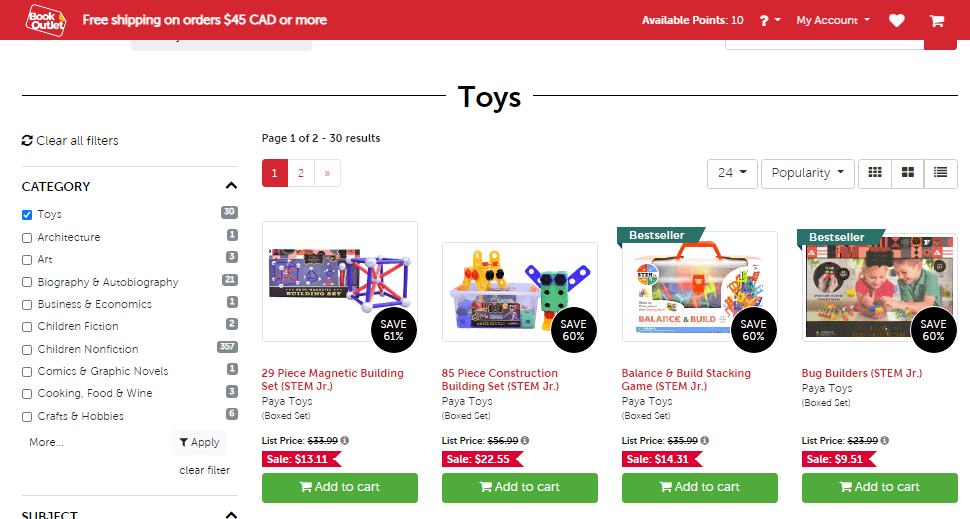 Where does Bargain Outlet get their inventory?
Bargain Books acquires new, unread books to sell directly from publishers that printed too many copies.
They also may have gotten the books from bookstores purchased too many copies and have returned them to the publisher for credit.
What are the conditions of the books?
Since books may have been handled a few times before arriving at Book Outlet, there may be very reasonable minor wear, tear or bends to the books.
You can expect the majority of our books to be in good reading condition.
How good are the Book Outlet deals?
How good are the deals on Book Outlet? The deals are up to 90% off list price.
What is the Book Outlet Loyalty Program?
You can earn 1 point for every $2 spent on the purchase of product, but not for any amount spent on taxes or shipping costs.
If an order is cancelled or returned, any Loyalty Points awarded for the purchase will be cancelled or removed from your account.
100 points earns you a $5 gift card
200 points earns you a $10 gift card
300 points earns you a $15 gift card
400 points earns you a $20 gift card
How do you get free shipping?
You can also get free shipping on orders $35+ USD / $45+ CAD to the US & Canada.
Book Outlet Coupon Code
New to Book Outlet?
Please feel free to use my referral link (or Book Outlet coupon code) to receive $10 off your first Book Outlet purchase of $25 or more.